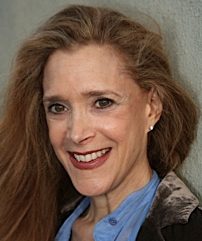 Jane Bernard lives in New York City. Her degrees in Philosophy (The New School for Social Research) and Special Education (Bank Street College), and three decades of informal Zen practice form the foundation for Jane's uniquely accessible perspective on intuition and intuitive eating.

She has been a writer for 25 years, starting as a technical writer for educational think-tanks, educational television, ghost writing speeches, re-writing books, screenplays, and proposals, as well as publishing creative writing. She has also been an adjunct writing professor at several universities.

Jane has been on The Montel Show and is a regular on national radio talking about intuition. Jane's first book, Fine Tuning is designed to help people recognize and tune in to their intuition. It can be opened to any page for a sound-bite of insight. Jane's savvy helps people connect with clarity to make empowering Life choices by using their senses with intuition and experience.

Because Jane Bernard is the expert to talk to about intuition, she was asked to write a book about intuitive eating. Based on interviews and observation, this new book talks about eating hot buttons from the dieter's perspective while revealing and explaining how intuitive eaters depend on real tools to stay in control of their eating.

Jane privately coaches people to use their intuition to overcome obstacles and connect with success. In 2011 she will begin speaking engagements and workshops to teach how to adapt to be an intuitive eater. Additionally Jane is a member of the Association for Conflict Resolution.


Share a moment when your faith changed your life.
The moment when faith changed my life is when I truly trusted it. When I wrote Fine Tuning, I was trusting my intuition and had faith that it would lead me to a place that would make sense of my life, and give me protection. Then six months later, I found myself talking about intuition on The Montel Williams Show.
How do you stay focused on the things that matter most?
I use my intuition to keep my priorities clear Realizing the consequences of not doing the things that matter most keeps me sincere and focused. Experience is a great teacher.
What's the best advice you've ever gotten?
Forgive and laugh often, is advice that defuses my emotions. It keeps me clear headed, instead of burdened by stress, by refreshing my perspective.
Who inspires you?
1 am inspired by children. Their open minds and open hearts refresh mine. Young people and people young at heart re-new trust of my own creativity and childlike side. We all have "it".

How do you "give back"?
I try to show people that they have control of their lives through my writing and speaking. Every person has a unique and satisfying inner guidance system programmed to lead to opportunity and fulfillment. I write to spark it.